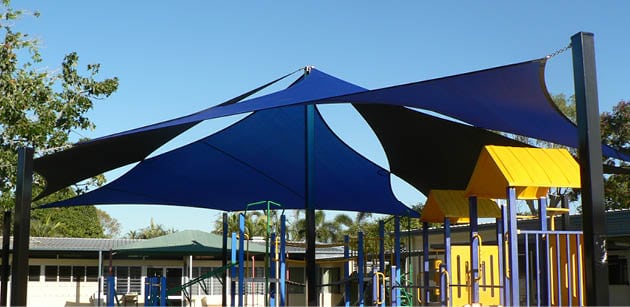 FAQs
1. Do you offer free quotes?

Yes, we can organise a free consultation and design for you. One of our specialists will visit your property, discuss your needs, assess the area and make recommendations. We can refine a design based on your requirements and provide a quote.

2. Do you work with builders and architects?

Yes, Shadeland regularly works with building companies, architects and councils on projects. With our vast experience and resources we are well-equipped to meet commercial requirements, budgets and timelines, while maintaining onsite workplace health and safety.

3. How do I know if I need an umbrella, shade sail or awning?

It all depends on the area you want to shade and your unique requirements. We can discuss your options at your free design consultation and make expert recommendations.

4. Can your products withstand storms?

Many of our shade structures and systems are engineered to withstand strong winds and rain – we are committed to supplying systems that are suitable for the North Queensland climate.

5. Do you supply button-operated blinds?

Yes, we specialise in both manually operated and button-operated retractable blinds – we have styles available using both electricity and solar power.

6. Do you offer repairs?

Yes, we do and we can also work with insurance companies.

7. What is the warranty?

There is a 10 year warranty on cloth and a 3 year warranty on workmanship.

8. Do you charge to quote?

FREE measure, design and quote.

9. What wind speeds can they withstand?

All our shades are engineered to Australian and Local Council standards.

10. What type of cloths do you use?

Waterproof is a Ferrari Vinyl. Which comes in many grades to suit your requirements from domestic, right through to commercial and industrial.
Shadecloth… we only use Commercial Grade shadecloth, which carries a minimum 10 year warranty. Shade factors of 95% down to 50% for greenhouses etc.

11. Do you use wire in your edges?

YES in vinyl we do, our vinyl shades have Stainless Steel cabling to the perimeter edge and Stainless Steel tensioning plates for the corners.
NO for shadecloth. As shadecloth is a totally different fabric to vinyl, we use a seatbelt webbing. It has four rows of chain knit stitching for strength and durability.

12. Why no cable in shadecloth?

Because steel cable is a heat conductor and over a short period of time can cause drying of fabric, thereby shortening the lifespan considerable.

13. How many colours do you have to choose from?

Shadeland has one of the biggest, if not THE biggest, range of fabrics and colours for you to choose from.

14. What do you use to attach the shadecloth to a post?

We have our own unique tensioning system, which consists of a Cambuckle. This allows the shade to be very easily installed and easy to remove when required. We DO NOT use turnbuckles as they have proven to sieze up over time if not maintained.

15. What do you use to attach to structures?

We have several varieties of ways to attach securely, whether to a wall, a roof, a fascia board or to beams.

16. How big do my posts have to be?

We carry a wide selection, from square box section steel, to round circular steel or to natural timber logs. All posts will be designed to suit each areas requirements.

17. Do you paint them?

Posts can be hot dip galvanised for protection, or can be painted if you wish, any colour of choice, including the use of two-pack paint.

18. How do you design a shadesail?

Shadeland has its own in-house design team to work WITH you to create a design which best suits your needs and enhances your property.

19. How can I stop the sun and heat coming through my windows….. onto my patio?

With our huge variety of Awnings designed for any windows, patios, decks, balconies and outdoor areas.

20. What types of aluminium awnings do you have?

We have a range of bullnose shapes, colour combinations, with side trim panels or closed sides. We have totally weatherproof systems with no visible fittings allowing for smooth lines and curves for easy cleaning. We have modern and stylish systems. We have awnings with adjustable panels to control breeze and light.

21. Are they durable?

Aluminium is one of the most durable materials due to its high resistance to corrosion and weathering, requiring minimum maintenance.

22. What fabric awnings to you sell?

A vast array of fabric awnings, with a vast array of fabric and powder coating colours to choose from, to coordinate with your existing colour scheme.

23. Do you have remote control Awnings?

Awnings are available with standard control cord, winch crank and spring operation, we are also leading the way in motorisation including sensors, timers and remote control.

24. What sizes do they come in?

Our umbrellas can be tailor made to any size, to suit any requirements.
Octagonal, square or rectangular.

25. Are they only centre post?

No, we also have side-post umbrellas which allow you to cantilever over pools, decks etc.
What winds can the umbrellas withstand?
Winds up to 170 km ph.

26. What material do you use?

We use 100% acrylic or vinyl, which offers 99% sunblock and UV protection.

27. What are the frames made of?

Our entire range is 100% aluminium and powder-coated in a colour of your choice, offering a maintenance-free structure.

28. How are they attached to the ground?

They can be either bolted down or an in-ground footing can be used.

29. How strong are they really?

Shadeland Shutters are the strongest fully-tested shutter on the market.

30. What benefits do they give?

Protect windows from flying debris
Reduce heat
Reduce noise
Provide extra security
Great for shift-workers in regards to sun and noise
Easily operated by remote control and solar power

31. What are they made of?

100% aluminium powder-coated to a colour of choice. A smart modern solution for privacy and sun control.

32. Where can these be used?

Frequently used as fence panels, patio screens, sun filters, window screens and security and also as features.

33. What types do you have?

We have internal timber shutters, PVC and aluminium shutters.